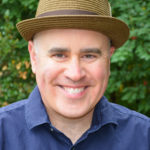 Jerome Rossen is a composer, songwriter, producer and professional musician. As a composer, Jerome's work has been featured in television, the Internet, video games, advertising, animation, film, concert, and theater.
Jerome creates the music for the Happy Tree Friends, a very funny (though very violent) cartoon for adults and mature kids. The show has captured over 2 Billion YouTube views since it's creation, and Jerome has been part of over 350 Million YouTube views (and counting!). Jerome has worked on the show since 2005, scoring the Internet episodes, DVDs, and Season One, which was broadcast worldwide and is currently available on Netflix and Hulu. You can watch the show here. Jerome's music has also been featured in 16 Happy Tree Friends mini-games.
As a jazz pianist, Jerome performs around the Bay Area. He is also a musical accompanist with the Bay Area Theater Sports, an improv comedy troupe. He has performed and toured internationally with rock and jazz bands.
Jerome was born in Akron, Ohio. He attended the University of North Texas, where he earned his Bachelors of Music in Jazz piano performance. Upon graduation, Jerome set sail as a pianist aboard cruise ships, in order to earn money to move to New York City. Jerome lived in NYC almost 5 years, where he took a shot at becoming a rock star. He was ultimately imported, (by his now wife) to San Francisco, where he began composing full time. Jerome started Freshmade Music in 2002.