Freshmade Music is an independent audio studio focused on creating fun, memorable and delightful music and audio for kids video games and television. For 20 years, Freshmade has consistently created and delivered broadcast-ready music and audio to publishers, app and game developers, broadcasters and advertising agencies.
About Jerome Rossen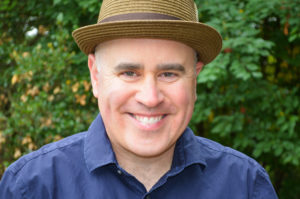 Jerome Rossen (he/him) is a composer, songwriter, producer and professional musician. Jerome has created music Originator Kids "Math Tango 2: Starbase" an app that has been a top pick in the Apple Store since it debuted. He also created the music for the Happy Tree Friends, a very funny (though very violent) cartoon older for kids and adults, that has huge cult following – the show has over 2 billion YouTube views!
Jerome has also created music for major brand ad-campaigns, video game sound tracks for numerous kid's games and has placed his music in major TV shows like The Bachelor (ABC), The Bachelor in Paradise (ABC) and the Bachelorette (ABC) as well as Temptation Island (USA), The Challenge (MTV) and Extreme Makeover: Home Addition (ABC).
Jerome was born in Akron, Ohio. He attended the University of North Texas, where he earned his Bachelors of Music in Jazz piano performance. After graduation, Jerome set sail as a pianist aboard cruise ships, in order to earn money to move to New York City where he lived for almost 5 years. He was ultimately imported, by his now wife to San Francisco, where he began Freshmade Music in 2002.
For more information, call Freshmade Studios, based in the San Francisco Bay Area: 415 326 5210 or email Jerome at info "at" freshmademusic "dot" com.