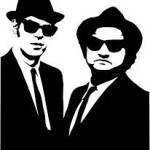 "ELWOOD: What kind of music do you usually have here?
CLAIRE: Oh, we have both kinds — country and western."
– The Blues Brothers, 1980 written by Dan Aykroyd and John Landis
I like all kinds of music including, country, western, pop, jazz, classical, and world – the list goes on. I listen to lots of music too that I may or may not like; largely pop music if my kids are in the car. Maybe I should be more totalitarian about their listening habits and play more Miles Davis, Mozart and Motown? In any case, whenever I'm listening to anything, I don't really turn off my music analyzer muscle, and this was the case when Kelly Clarkson's "Heartbeat Song"  was on the radio yesterday. I'm not prepared to make an argument for whether it's good or bad – that's for you to decide – but I can tell you my opinion; one of the musical reasons why this song has become popular. And I'm also going to reference A-ha's "Take On Me" .
To me, the biggest reason why "Heartbeat Song" is popular is because of the way the beat changes between a fast, frenetic feel during the verse, and a slow, epic beat during the chorus. I think dramatic changes like this one are very compelling to pop music listeners. I think listeners generally find music interesting anytime there is a part of a song that "kicks in" or where there is a smooth feel-change that feels natural, and gets your attention; that makes you want to dance or dance in a different way than the section of the song before it.
During the verse, the words bounce along like it's bubblegum pop, although in this case, the music is actually playing against the words. Whereas the words show worry, concern and stress, the beat just keeps moving along.
"Pins and needles on my tongue,
Anticipating what's to come"
The drums during these verses are very simple, with the kick on 1 and 3, the snare on 2 and 4 – the drums are hitting every quarter note here. There is a rhythm part played by a guitar or synth – or maybe doubled that is playing 8th notes. The verse has a very quick, driving feel. The pre-chorus has an interesting transitional feel to it. It's a broken beat that forecasts some of the drama to come, but it doesn't get too epic.
Then we get to the chorus. The beat here is in ½ time, as compared to the verse. If this section were experienced by itself, this could be the climax of a ballad. The feel here is very epic – Clarkson is singing in a higher part of her register, and the words are meant to be… heartfelt.
"This is my hearbeat song and I'm gonna play it, been song long, I forgot how to turn it up up up up all night long…."
Which brings me to A-ha's "Take On Me". This song employs this same technique in the chorus, just in a smaller dose.
In the beginning of the song, the whole feel is quite fast, again bouncing along. The chorus has the same feel, and momentum moves forward until you get to the line
"I'll be gone…." For these 4 bars, there is a brief respite of ½ time, right before singer A-ha singer Morten Harket sing's his falsetto high note. In the music video, it's the moment when the animated hand breaks the third wall and motions for our blond protagonist to enter into comic book world. This all doesn't happen as a coincidence… To me, this is one of the attractions of the song and even provides one of the reasons why this was a breakout hit for A-ha in 1985.